How to get loyal customers that will support you for life and keep buying from you repeatedly? By gaining their trust. Huh, easier said than done, right? Especially, if you're an introvert. But still, there are free ways to connect with your potential clients on a deeper level and turn them into raving fans. How? Keep reading.
Also for introverts
First of all, I want to tell you, I'm an introvert. I'm totally scared of talking to people I don't know (when I know them, my mouth won't shut 😛 ). I prefer to spend an hour in a shop looking for something than ask a simple question. Yes, you can call it an illness. Anyway, if there are ways to connect with your potential clients that work for me, there is hope for everyone.
How fast will it bring results?
I just want to make it clear that these are not magical formulas that will turn you overnight from zero to hero. This is a long time game. You can't gain trust in one day. We all know the world of mouth is the best marketing but you have to earn it. However, trust me, it's worth it. Through this slow process, miracles happen and like a snowball, it eventually starts running at full speed. You just need a bit of patience (this can be the hardest part, right?).
What are the methods to connect with your potential clients on a deeper level?
These methods mostly use social media. And you know what? That's so cool! We spend way too much time on Facebook or Instagram anyway, so why not use it to our advantage? The results can be totally magical!
1. Social media – Instagram
My first real breakthrough happened thanks to Instagram. At the very beginning of my career as a freelance photographer I invested a lot of time into it, I studied the techniques, strategies, etc. And you know what? One day I received a message: "Hi! Would you like to go with me to the Milan Fashion Week and take pictures of me during and backstage of the fashion show?". An Indian fashion blogger sent it and since then she has become one of my most loyal clients. How did she find me? Through a hashtag.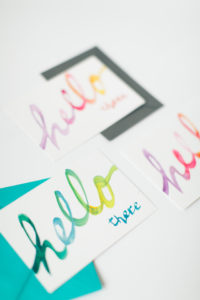 So how to use social media to connect with your potential clients? Most artists just try to sell. And you know what? Don't do that! Instead, show your behind the scenes, your inspirations, what benefits they will get working with you, etc. Come on, show some personality, babe!
Use social media with intention, as a tool. It's a great way to make connections, so comment, start conversations and have fun! Remember: the best things happen when you least expect them.
If you'd like to learn more about using Instagram for your creative business, check out my book: How to use Instagram to grow your creative business?
2. Groups
Facebook groups are great when used wisely. Again, do not use them to post spammy, salesy crap. Nobody wants to see that! Instead, try to help others. There's no better way of gaining somebody's trust than solving their problem!
So, first of all, determine your target audience (we've talked about it here: How to find your target audience?). Then, find groups where they hang out. Read the posts and try to give advice, answers, and support. When possible, start conversations. Do not jump out with your offer immediately! Let them ask you what you do and find out how beneficial working with you might be FOR THEM. If what you do is exactly what they need to solve their problem, just say it and explain how it could help them. But remember: DO IT ALL FROM THE POSITION OF SERVICE! Genuinely try helping them and they will appreciate it.
Will everybody you talk to buy from you? Of course, not. But you can offer them your freebie to make them sign up for your email list so that you can keep in touch with them. And who knows? Maybe they'll buy from you in a few years. I told you – it's a long-distance game, but a very efficient one.
More about the importance of list building and how to do it here: FAST-TRACK ARTIST
3. Mentorship
Mentorship is a feature available in some Facebook groups and I find it simply amazing! You can sign up as a mentor and people can contact you. You can also see people searching for mentors and if you fit, you can directly contact them. Then, the process is very similar to what I described above. Remember! Don't be salesy! Genuinely try to help to connect with your potential clients!
How to find mentorship? Just enter any Fb Group and look at the panel on your left. If it's available, somewhere between Discussion, Pictures, Videos and Files there will also be 'Mentorship'.
You can read more about it here: https://www.facebook.com/help/380533659173752
4. Podcast guest/ Guest blog posts
As you probably already noticed, gaining trust is mostly based on helping your potential clients to solve some particular problem. Find blogs and podcast with a similar audience to yours and try being a guest. I find podcasts especially amazing as when people hear you and your story they immediately feel they know you = trust you. Plus, you get exposure to a whole lot of potential customers. But remember: what you talk about has to provide value for that audience! Most podcast hosts give you also the opportunity to include a link to your website or your offer in the description they add to every episode so that you can get more visitors.
Podcasts are great because they don't really take much time. With a guest blog post, you have to write the post, edit it, etc. With a podcast, you obviously have to be prepared, but it's somehow easier, especially when you talk about something that really fires you up or when you share your story. Remember: facts tell, stories sell!
How to find such collaborations?
Check out some blogs and podcasts and contact their hosts. Remember! Do it from the position of service! How can you serve their audience? How what you say will be valuable for them? Think about it.
You can also check Facebook Groups full of such opportunities. Some are just full of spam, but I find this one especially working: Podcast Guest Collaboration Community – Find a Guest, Be a Guest. In a week I booked 5 interviews to be a guest in other podcasts, so I think it's a great place to start.
5. Programs and events
I found out that taking part in educational programs can be an amazing source of opportunities. The communities usually have fantastic, positive energy and are full of creative people who support and understand each other. You may find potential clients there but most often you'll find great collaboration opportunities, such as organizing contests together, being at each other's podcast, etc that will lead to connecting on a deeper level with your potential customers.
6. Free collaborations
When I moved to Italy, I didn't know anybody. In Poland, I had a group of models, make-up artists, stylists, etc with whom I could work. Here, I was all alone.
In the beginning, just not to stay home, I started searching for people willing to do some free collaborations. I wanted to get to know some people, expand my portfolio and take pictures (Do you know this feeling when something inside you literally hurts when you're not practicing your art for too long? Then you know what I'm talking about).
Most of those collaborations ended after one photoshoot and that's normal. But during all this research I found a make-up artist who I totally love: she is as crazy as I am, we understand each other perfectly and since we met we've already done many photoshoots together. And you know what? When I need a make-up artist for a client, I call her. When her client needs a photographer, she calls me. She also sometimes hires me to take pictures of her when she needs some professional images. It's a win-win and it all came from a free collaboration.
How to find collaborators?
What worked best for me were, again, Facebook groups. In my particular case I just found groups like: 'Models tfp Italy', 'Photographers, mua, models tfp Milano" etc and posted there. You can also search for people in your area on Instagram and ask if they'd like to have some fun together.
7. Beta testers
When you don't want to be salesy, but need client reviews and potential customers who might be interested in your other services, it's great to use beta testers. What do I mean by that? Let's say you wrote a book or created a new program. You offer it for free or discounted to people in exchange for their feedback. It's a great way to build a list of potential clients and find ways to improve your product or service. It can also work with services like live painting, photoshoots, etc. Your imagination is the limit. Yes, at that point those people get the product/service for free or discounted, but you know they are most probably your target audience and you can send them offers for your other products or services in the future. Again, I told you it's a long game!
What's next?
Now it's your turn to take action! Which of the methods described above can work for you? Write them down and schedule some time in your calendar – if you don't, we all know you most probably will never do it. So go ahead! And don't forget to share your insight in the comments.