She used to be a nurse in Australia. Now she's a fashion designer in Milan. The story of Belinda Healy is really fascinating. I decided to ask her why she decided to make such a change, how did she do it and what it's like to study fashion design. Here's what I found out.
Who is she?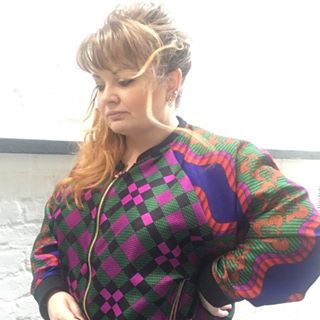 Belinda is an amazing woman coming from Australia, where she worked as a nurse. She reached the top of her career when she moved to London to work and teach at the Queen Mary University London. But she wasn't satisfied: "I really wanted to do a job that had an element of creativity, and I really wasn't fulfilling that creative side of my personality. I wasn't really being able to fulfill my creative personality doing nursing." – she says. That is why she decided to do something completely different.
How did it all start?
Back in 2006, she studied some interior design where she learned the principles about the line, color, etc. Around 3- 4 years ago she bought a sewing machine and started creating simples dresses. She discovered it was fun, so she started to observe famous designers and their shows and learn about the fashion industry.
After some time she decided, she'd like to know even more. Belinda thought the best place to study fashion would be Milan, so she moved there and started an intense course at Accademia Del Lusso. She loved the fact that there were a lot of practical classes in small groups.
What it's like to study fashion?
Her first answer, when I asked how it was to study fashion? "The time had gone incredibly fast!". In a blink of an eye, she found herself moving from dreaming to actually creating her own designs. The intensity of the course surprised her, but she was happy to learn so much.
I know the fashion world is usually very competitive, so I asked if she felt that rivalry between the colleagues in her class. "Not at all" – Belinda says. "Amongst the class, there's just support and encouragement. Honestly, there's no competitive feeling at all of trying to be better than somebody else." Then she adds: "Everybody is so encouraging. We always say "Oh, that looks fantastic, that's amazing, you've done that really well.'' There's a lot of inspiration that goes on by seeing what each other has been doing and making.". I guess this is a very important part of the learning process.
What was the best?
Studying fashion must be a lot of fun. What was the best part of it? "There have been so many good things, it's really hard to pick one." – she laughs. But after a moment she says: "I think the experience of being able to produce your own collection was amazing. To be able to just do a whole collection that is completely your own, from beginning to end was an experience, which I think I've learned so much from, which is really rewarding." This amazing experience went even further when she was selected to be a part of a runway show. Going from sketching, through making the pattern, sewing, fittings and all the way through to the final product.
Any difficulties?
And what was the most difficult? When you have to produce "on command", on days that you don't really feel creative. "I guess all creative people have that creative block at times, and you just got to push through it." – she says. However, Belinda admits that it was a good lesson in persistence. "Even if you're not doing your best work, just start somewhere, and then continue to change and evolve and improve, and then you end up with something that you're really happy with."
Her gurus
Who are her favorite designers? "Oh goodness, I was hoping you were going to ask me this, but at the same time I was hoping you wouldn't." – she laughs. Then she starts: Issey Miyake and Yohji Yamamoto. Alessandro Michele from Gucci is her top favorite. "He's a creative genius." – she says. "His designs are so joyful and exuberant and they celebrate life! They are a little bit over the top, but they are completely unapologetic in being so 'full on'… I love that about them. Even if you don't 'like' Alessandro's designs or you'd never buy or wear them, you still couldn't help but smile when you see them! And I love that…he elicits a smile and a joyful response through his designs. That's an amazing thing to be able to do!" However, then she adds: "If I'm thinking historically, sort of not currently making clothes, my favorite designer would probably be Christian Dior. I don't think you can beat Christian Dior."
Inspirations?
As a designer herself, Belinda takes a lot of inspiration from architecture. "My last collection that I did for spring/summer 19 was inspired by the architecture from Antoni Gaudi in Barcelona. When I had been traveling in Spain and I lived in Barcelona and I saw the art and the architecture of Gaudi, I was just absolutely amazed. And creatively, I think he just was so forward-thinking and so innovative for his time. That was a massive inspiration for me.". She also finds her inspiration in renaissance classical painters, especially in the colors they used to shape the line. "My particular design aesthetic that I really gravitate towards, it's about texture and the use of line and proportion and I see those things in architecture, and I see those things in painting and classical art."
What's her message?
I know many designers have a message they want to transmit through their clothes, e.g. empowering women. I was curious to know if Belinda also has something she'd like to transmit. "I think that what I would like people to see from my clothes is that fashion can be intelligent, it can be smart and it can be innovative and it can be new, but doesn't have to be absolutely crazy avant-garde. It doesn't have to just be a pretty dress or a pretty garment, it can be beautiful and enhance the beauty of the wearer, but it can be intelligent and smart at the same time."
The most interesting stories
One of the most interesting stories are always those from the backstage – so, obviously, I asked Belinda to share a few of them. The most fearful moment happened when just two days before the runway show, the model who had been cast to wear her dress was changed, so she had no control over choosing the new model. She had to completely refit the dress, by pulling it all apart and putting back again. It was very scary, as it wasn't until maybe two hours before the runway show, that she was actually able to put the dress on the model to see that it fits her. "That was pretty nerve-wracking! From what I hear it's not uncommon, it happens quite frequently, but for me, that was one of the scariest moments: will this dress fit, will I get it finished in time? Fortunately, it all came together really well."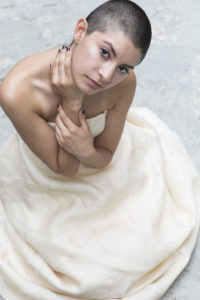 What about some funny story? Belinda admits that the most surreal moment happened when she was involved in the model casting for the very first time. She expected it to be so glamorous: all these beautiful elegant models and trying all these beautiful different clothes on them and taking photographs. In reality, she spent all day pinning hems, staying down on her hands and knees putting clothes and shoes on the models. Totally unglamorous! However, in the end, she enjoyed the day the same. From my own experience I know, the backstage of fashion isn't as glamorous as it seems. Not at all. Another surprise? "I wasn't expecting how many people are walking around naked backstage!" – she admits. That is also true – I've been at the backstage of Milan Fashion Week shows. I've seen it all.
Anything not nice?
Is there something she doesn't like about fashion? There are many things about the way that the fashion industry runs that don't go well with her ethics, personality, and beliefs. The problem Belinda mentions is something I notice with many creative industries: you're expected to work a lot for free to get experience. "Ethically, I don't think that that's a fair way to operate, but that's just the way that the fashion industry is." – she says.
The life of a designer
Coming back to the bright side of the industry, a fascinating aspect of what it is to be a designer is observing how some trends happen so quickly and some continue to stick around forever. "I also am a very strong believer in the fact that fashion is always moving, it's always going forward and you can't afford to sort of stay sentimental" – says Belinda.
Should a designer travel to every fashion week to stay up to date? "If you're lucky and you can, then great, but it's not necessary". Thanks to technology you are so accessible to all the different fashion shows and all the different trends that are happening around the world without having to be there in person. However, many design jobs require a lot of traveling. As a big part of work is outsourced, even working as a designer in Italy, working with production in another country, you will have to travel, in order to keep the production happening.
What are her plans for the future?
"Getting a job and staying as a part of the industry, where I'm continuing to evolve and learn. I think you only just really start to grasp what it is to be a fashion designer, once you've left fashion school. That's really what I'm looking for, for the future, where I can continue to learn." And what about each designer's dream? Would she like to open her own brand or work for a famous one? "I'm open to both" – she admits, but whatever happens, she wants to maintain a little bit of freelance work for herself. "And who knows, if that becomes very successful, then maybe, it will turn into my own label, but I think it's important to just be in a place where you're learning no matter what it is that you are doing. You just need to continue to be evolving and keeping in touch with what is happening in the industry around you. "
You can follow Belinda on Instagram.
Update
Belinda moved back to Australia. She's now in Melbourne, which is the city with the most going on in Australian fashion. "I'm working with some people from the local council here to purchase a bunch of sewing machines and sewing equipment to start up a community sewing group. I hope to encourage members of the community to have a go at sewing and creating their own garments and hopefully give them some insight into exactly how much work and resources go into our clothes. I can hopefully help educate people to understand that fast fashion with its low-cost, low-quality garments is not always such an appealing option once you have some basic sewing skills. I'm quite excited about this project and it should kick off in another month or two."
How about you? Do you have any interesting stories about what it's like to study fashion design? Share them in the comments!