Whether you're a fashion blogger, beginning model or a face of your fashion brand, you will eventually have to stand in front of a camera. A professional photoshoot, no matter if in the studio or on the street, differs from taking selfies or streets shots with your friend. Here are a few tips how to get ready for it. They might seem obvious to you, but you'd be surprised, how often people forget about them. So, how to get ready for a photoshoot?
Nails
Make sure your nails are clean and look nice. You can polish them to give them a nicer look, but it's better if you use quite neutral colors (you can make French for example) or not very vivid ones, unless it fits the photoshoot style. If you don't know what exactly you should do, it's better to just keep them calm and nice. It's just important not to have ugly nails on the pictures.
Remove hair
Especially under your arms. If you put your hands up during the shoot, it can look really bad on pictures. Yes, hair can be removed in Photoshop, but remember: the least work in Photoshop the better. If you can just get prepared and look good on the shoot, why should you create additional work to the photographer= wait longer for your amazing pictures?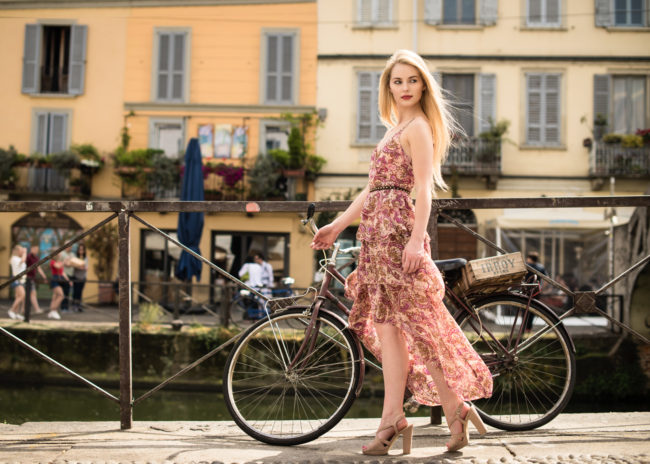 Shoes
Whether the clothes are provided or not, remember to take your shoes. If you're a model – that will always mean high heels, but not too high. Even if the stylist should provide them, there can always be a problem with a size and it's very difficult to hide. If you're wearing elegant clothes it's difficult to explain why you're barefoot on the pictures, right? Always be prepared and take a pair of shoes with you. Choose neutral colors – black or beige, without patterns. It's not about showing off with cool shoes at this moment, it's about having something to put on which fits any situation.
Underwear
Make sure to have a nice underwear, which does not mean red strings or a supersexy one. Even if you're not going to show it, it can happen that, depending on the clothes, you can see a piece of it on the pictures. Or, for example, the stylist can give you a jacket to wear with only your bra underneath, and you have to be prepared for that. In such cases a simple, black underwear, without lace works best. Beige also can be at times.
Changing on location
Sometimes, when you're shooting on location, it can happen that there will be no place for you to change. It's also something you can get ready for, even if it's not a comfortable situation. Wear a simple top with shoulder straps. Why? If you put a dress on it, it's easy to remove it from underneath.
Sleep
Make sure you take some good sleep before the shoot (even if you're very nervous because it's your first one or it's with a fancy photographer etc.). Your skin should look fresh and you really don't want to have the bags under your eyes. I know you'll have make-up, but you shouldn't rely so much on hiding and covering your imperfections. It's simply looks better naturally. So make sure you take rest and have energy for the shoot.  
Acnee/allergy
If you have acnee or any sort of skin allergy, a few days before the shoot start using some creams or pills to get rid of it. I know it's hard at times (the allergy on my face is a nightmare), but it's doable. If you use a stronger cream for a few days just to make sure your skin looks nice during the shoot, nothing bad will happen. Again, yes, these things can be covered by make-up or removed in Photoshop, but again, it's an additional work for the team, which you can avoid. Also, if you cover your allergy with make-up, your skin can become painful during the shoot and at that time you'll have other things to focus on.
Remove the socks
Going for a photoshoot it's good to remove your socks a while before going. Socks or anything that leaves marks on your skin. It takes more time than you think for those marks to disappear and they look very bad on pictures.
Relax! 
Most important of all: relax and have fun! It's so visible on pictures, you can't even imagine. No make-up or clothes can help if your attitude is bad. So take a big breath and enjoy. In the end, that's what you want your pictures to show, right? Especially if you're a blogger taking pictures during your exciting trip. So be excited! Even if you're not very experienced, the attitude is half of the success, so don't worry.
Any other suggestions you can think about? Did I forget about something? If so, share your opinion in the comments. And if you know anybody who could find this post useful, don't forget to share it with them.